Picture Wednesday – All-Women Jazz Band
I normally publish street art pictures in my Picture Wednesday series. But, it was such a lovely surprise to go for Saturday dinner and drinks, and having some live music, an all-women jazz band. This is something that I love in London – the ability to find great live music easily, not just in big venues such as the O2.
Female jazz bands are more unusual to find. Although there are wonderful jazz singers, such as Madeleine Peyroux, I haven't seen many jazz bands like the one I saw that night. They played beautifully.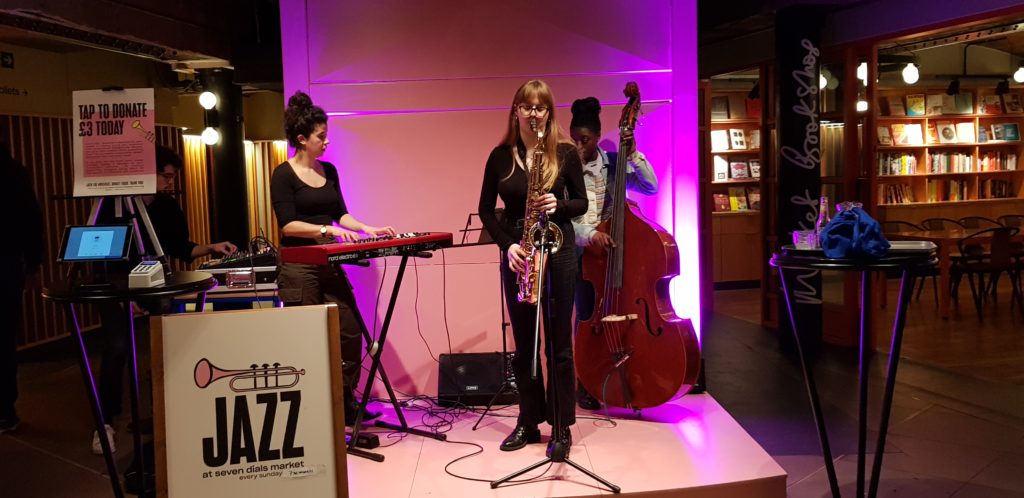 They played in the pink stage at the Seven Dials Market in Covent Garden. There used to have a variety of events pre-Covid, including jazz every Sunday where musicians curated by Tomorrow's Warriors show off their skills. They are sadly closed due to the current circumstances, but it is great that they've got an online delivery service and a podcast.
Tomorrow's Warriors is a charity that seeks to inspire, foster and grow a community of artists, audiences and leaders. They may continue collaborating after we get back to normal.