The Night Tube Has Arrived in London
The night tube finally arrived in London three years after the plans were first announced. According to TFL, 50,000 people used the service on the first night. But, I wonder if everyone is excited about it.
It was launched on 19 August for the Central and Victoria lines as a trial, and there are plans to expand this service to the Overground and the DLR in 2017. In fact, the Jubilee line is to open 24 hrs on 7 October, although not the Piccadilly which would take travellers to Heathrow airport.
In many people's minds, the night tube idea has always been a winner and something we didn't think it was ever going to happen. The night bus network has never been the best choice for many residents, but the only way to get back home cheaply after a night out in town. I'm sure we all have a few stories to tell about rows, people falling asleep on your shoulder or drunken marriage proposals. One of the best ones I remember is when the whole bus sang the Marsellaise.
It may well be too late for some of us who do not work shifts, as going out 'till late isn't a priority these days. On the first night, I was so used to not having to work out the bus combination to get home that I even forgot that I could take the tube! The new Mayor didn't forget and his team was really quick to post pictures of him taking the tube.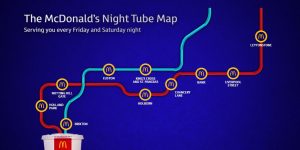 Brands have also welcome the night tube and have also been quick.
Great things about the night tube
More opportunities for buskers, maybe?
For people who work shifts, it may be a great option.
More relaxed when going out, not having to rush at midnight like Cinderella.
No more being left stranded in the middle of nowhere without any explanations.
No more drivers who don't know their way around and need to be guided by passengers
There may be more offer for venues opening 'till late or late night activities, so more revenue.
My concerns
Security, as all the rows on the night buses can also happen on the tube.
TFL says that there will be extra police to help make it safe. Safety issues can be a problem for women and vulnerable people.
Not everyone lives near a tube station and could be a real problem not to have a proper service.
Trains will probably not run that frequently, so we will have to run anyway.
Strikes.
Increased transport fares.
Will it actually last?
What do you think?
Visit the TFL website for a updated night tube maps and more information.