The music and arts scenes, and street art in particular, are some of the best things in London. Claudia, an art historian and lecturer, is another or mural art lover. Read what street artists have been up to during lockdown in the Brockley area in London.
—-
The Brockley Street Art festival was launched in 2015, and the past four editions have seen many street artists painting around the borough.
It usually takes place at the beginning of June, during the Brockley Max, a nine-day community arts festival celebrating local talent. This year, musicians, artists and performers offered online events instead, due to the lockdown.
Another initiative is The Lewisham School of Muralism, launched in May after hitting its fundraising target. Created by Artmongers in collaboration with Goldsmiths University, participants will learn the process of creating street art pieces and engaging with the community. As part of their course, each student needs to create two murals in the area during 18 months.
Artmongers was set up in 2003 by artists Patricio Forrester and Catherine Shovlin. They've been brightening up the areas between Deptford, Blockley and Lewisham. At 184 Brockley Road, we can still admire a Bob Marley tribute painted by Dale Grimshaw in 2015.
A short walk on the left of the Blockley Barge pub, under the railway bridge, reveals an iconic Brockley sign painted by local artist Lionel Stanhope. Mixing typography and street art, is one of a series of signs both funded by local communities and the Network Rail. There are similar artworks under the railway bridges at Forest Hill, Hither Green, Herne Hill or Selhurst.
Brockley Street Art Festival has created numerous artworks around neglected or anonymous locations. For instance, INSA mural, called 'The End Is Only The Beginning', which was painted a few years ago, is still going strong on Avignon Road. It depicts a skeletal hound inserted in psychedelic discs and it reminds of Eadweard Muybridge's photographic studies of motion.
Street art during lockdown
Even if the festivals were called out, the lockdown provided street artists with plenty of time to paint in the eerily empty streets. Artmongers came out with the brilliant idea of changing the appearance of the footbridge with a giant NHS rainbow at Aspinall Road, which used to be known as the scary bridge.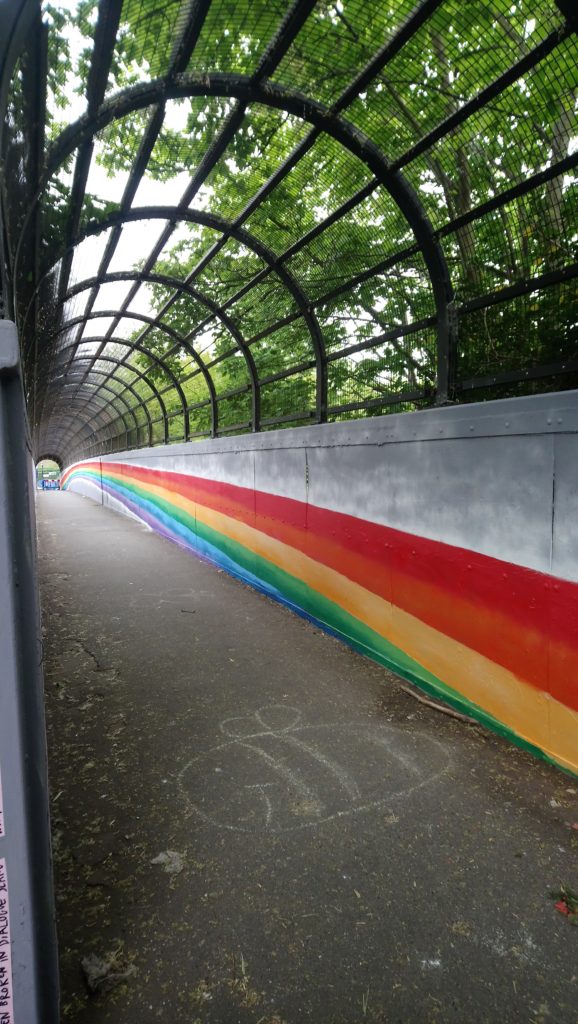 Lionel Stanhope has created a beautiful mural to pay tribute to the NHS.
The first one it is near Hilly Fields park, and depicts the NHS workers as superheroes.
This mural was highly appreciated by the community and the artist made another one very similar on Cornwall Road, near Waterloo East station and St Thomas Hospital.
Stanhope also did in early May a version of the "Supper at Emmaus" by Caravaggio, depicting Christ wearing surgical gloves. You can see it in Ladywell.
If you wish to see some of the artwork in the area, the best thing to do is to take the overground and get off at Brockley station.